African American Male Wellness Walk/Fair
November 5 @ 8:00 am

-

1:00 pm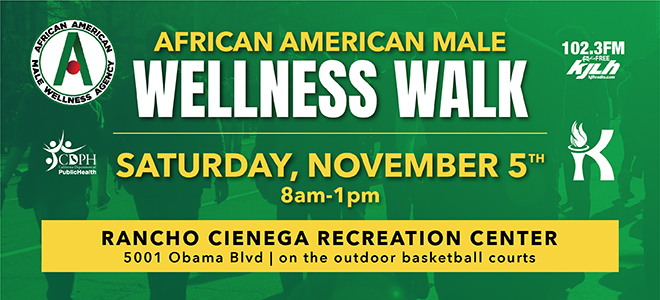 Join the KJLH team and walk with Kevin Nash!
Help save the lives of African American men and their families! Register for the walk on site.
Visit aawellness.org
TAKE PICTURES WITH KJLH PERSONALITIES AT THE CDPH BOOTH
Kevin Nash (8:30a-10:30a) Adai Lamar (10a-11:30a) Tammi Mac (11a-1p)
Join Adai and fitness instructor Dion Jackson for a pre-walk warm up (9:30a) and for $50 gift card giveaways
Stop by Kevin Nash's Air Stream mobile karaoke studio – he wants to hear you sing!
Free health screenings and 1st 50 households receive $50 gas cards when Vaccinated
Vendors
Live entertainment
Bounce house, face painting and more for kids
Sign your kids up for Play LA Sports Day at LAPARKS.ORG
This is a free family friendly event for the entire community
LET'S DO IT FOR THE BROTHER'S!!