Meet the 2022 Honorees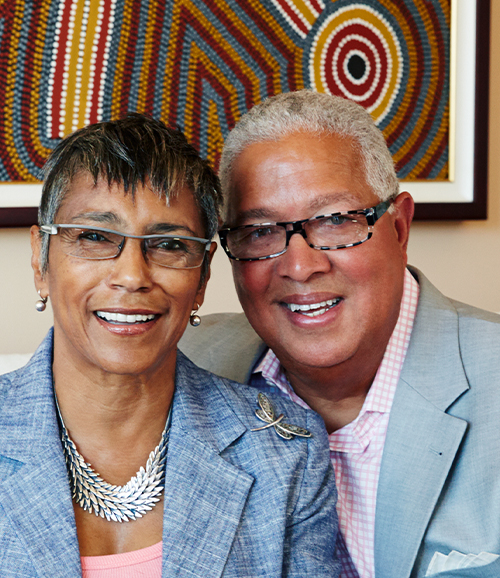 Bernard and Shirley Kinsey
The Kinseys reside in Pacific Palisades, California. They have traveled to over 100 countries and are the proud parents of their son Khalil, who is General Manager of the Kinsey Collection.
Read Full Bio
Bernard & Shirley Pooler Kinsey strive to live their lives on two simple principles: "To whom much is given much is required" and "A life of no regrets." Their 55 year marriage and partnership represents an alliance based on love, respect, and the importance of friends and family.
Bernard and Shirley were both born and raised in Florida, West Palm Beach and St. Augustine respectively. The two met at Florida A&M University in 1963 after a civil rights protest during which Shirley was arrested. Bernard and Shirley married in 1967 and after graduating, moved to Los Angeles with only $26 and a job. Where they developed a simple strategy of living on one salary and investing the other.
Shirley taught school before joining Bernard at Xerox Corporation, where he ultimately served as a Vice President until his retirement in 1991. He is a co-founder of the Xerox Black Employees Association, an organization that was responsible for hiring thousands of Black, Latino, and female employees and is the subject of a Harvard Business School case study. Upon his retirement, he went on to serve as Co-Chairman of Re-Build Los Angeles (RLA) and helped raise $380 million for businesses and for revitalization for riot torn South Los Angeles.
Bernard has served as past President of Florida A&M University National Alumni Association representing over 70,000 alumni worldwide. During his tenure, assets grew fourfold; life memberships doubled, and he launched the first FAMU/NAA National convention now in its 20th year.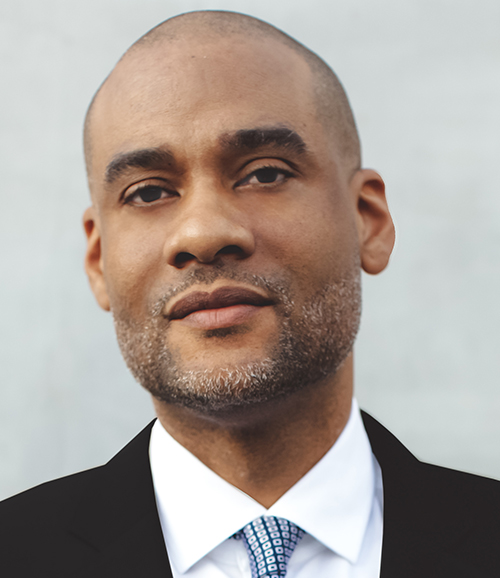 Karim Webb
Karim Webb is an Entrepreneurial Activist and CEO of 4th MVMT, a Los Angeles based firm that vets, trains, facilitates
funding, and partners with individuals from underserved communities to own and operate competitive retail businesses.
Read Full Bio
Before founding 4thMVMT, Mr. Webb co-founded PCF Restaurant Management, a franchisee of Buffalo Wild Wings ("BWW"). PCF has four restaurants in the Los Angeles area, with four additional units in development. Webb's leadership and advocacy for a more equitable restaurant industry earned him a spot on the 2021 NRN Power List. Webb is also Venture Partner in Slauson & Co., an early-stage venture capital firm investing in the tools, platforms, and people aiding in small businesses' development, democratizing access to business ownership.
Appointed by Mayor Eric Garcetti, Webb serves on the Los Angeles World Airport Commission (LAWA) and holds various board positions, including Co-Chair of Mayor Eric Garcetti's RENEW (Race & Equity) task force, Everytable, the Living Through Giving Foundation: Hashtag Lunchbag, the Brotherhood Crusade as a Corporate Advisor, and as an Advisor to the Multicultural Foodservice & Hospitality Alliance (MFHA). He is also a spokesperson for BLOOM, an initiative of CCF which seeks to create a more positive and productive future for 14-18-year-old Black males living in South Los Angeles who are, or have been, under the supervision of the L.A. County Probation Department.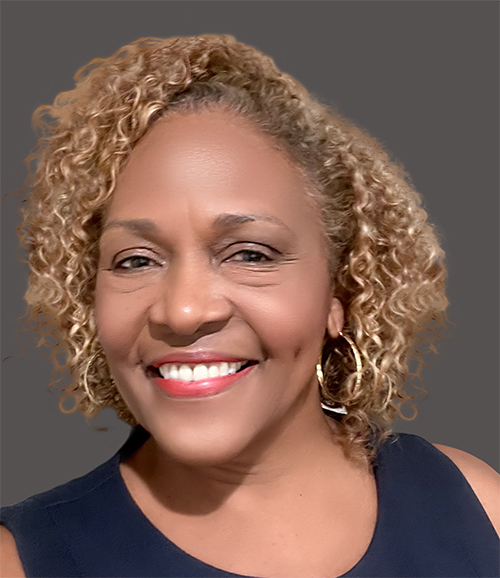 Angela Gibson-Shaw
President, Greater Los Angeles African American Chamber of Commerce (GLAAACC)
Read Full Bio
A public affairs veteran with more than 35 years of experience, Angela Gibson- Shaw has a vast array of experience with small business outreach, community outreach and public relations. She is committed to the empowerment of small, minority, women and veteran-owned businesses leading to job creation in communities of color.
She is the current president of the Greater Los Angeles African American Chamber of Commerce (www.glaaacc.org. GLAAACC is dedicated to the growth and development of the African American business community. Angela also serves on the board of directors to the Inglewood Airport Area Chamber of Commerce, in addition to serving as an LA County Small Business Commissioner. Prior to her retirement at AT&T, Angela worked with then State Assemblyman Steven Bradford as a telecom consultant.
She has served on the boards of the Compton, Culver City, Carson, Huntington Park and Lynwood chamber of commerce, LA County Workforce Investment and South Bay Workforce Investment Boards.
Mrs. Gibson-Shaw is the immediate past Chair to the Los Angeles African American Women's Public Policy Institute, an organization dedicated to grooming African American women for Los Angeles leadership positions.
Angela Gibson-Shaw is a graduate of the African American Board Leadership Institute, and has attended West LA College and Mendoza School of Business Chamber Training Institute. For her commitment, she has been honored by National Congress of Black Women, 94.7 The Wave, GLAAACC, the National Congress of Black Women-LA Chapter, National Action Network LA, LA Focus, Our Authors Study Club, Recycling Black Dollars, The Black Business Association, LA Focus, The National Association of University Women, and the Women in NAACP, among others.
She has presented on the subjects of small business programs, securing corporate donations and leadership for women. She is married to Frederick Shaw Jr., public affairs director for the Citizens Commission on Human Rights. They reside in Inglewood.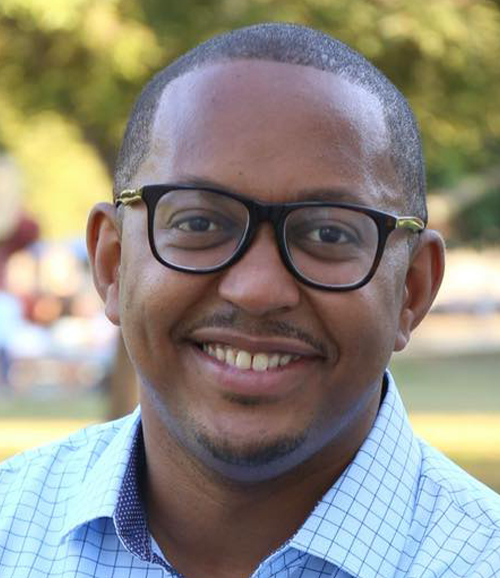 Rex Richardson
Elected in 2014, Vice Mayor Rex Richardson represents the 9th District in North Long Beach as the youngest-ever person to serve on the City Council and as Vice Mayor. He is currently in his second term.
Read Full Bio
Regionally, Rex is the Immediate Past President of the Southern California Association of Governments and a member of the South Coast Air Quality Management District Board of Directors, a position to which he was elected in 2020.
Rex has earned a reputation as a hardworking leader dedicated to ensuring every Long Beach community receives equitable investment and opportunity. He has brought neighborhood, labor, business, and clergy leaders together to improve economic conditions in North Long Beach and has spearheaded numerous projects to create open space, renew infrastructure, and improve residents' quality of life. He believes that true leadership stems from collaboration and the willingness to become the agent of change.