Meet the Panel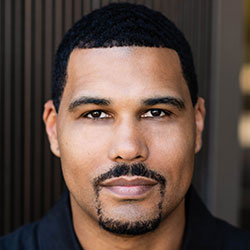 Nick Hamilton:
 15 year media industry personality,
Nick Hamilton
is a dynamic media personality best known for his work on SIRIUSXM, NBC, AP, iHeartMedia, and BBC News. He has covered everything from CFB National Championships,
NBA All-Star Games, NFL Super Bowls, NHL Stanley Cup Finals, ESPYs, Nickelodeon Kids Choice Awards, The Oscars, D23, Film Premieres and more.  He hosts a weekly radio show
"The NH Experience"
on SIRIUSXM 145. A member of
AAFCA
(African-American Film Critics Association),
PFWA
(Pro Football Writers Association). 2023 National Media Voter with the WNBA.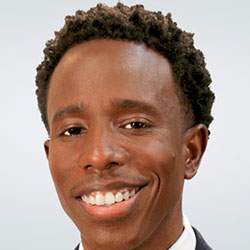 Rahshaun Haylock is a proud husband to Crystal and father to Summer. He currently serves as the play-by-play voice of the Los Angeles Sparks and South Bay Lakers. Additionally, Haylock is a sports reporter at KTLA. Prior to that he spent seven seasons as a sideline reporter and host for the CIF-Southern Section High School Football Game of the Week on the former FOX Sports West/Prime Ticket. He also spent time as a sideline reporter and play-by-play announcer for ESPN3 covering the Big West conference. Haylock's initial on-air opportunities began at SportsNetUSA.net under the tutelage of Ed Ford and Hawthorne/Lawndale City Cable. He began his career working as a production assistant at KCBS/KCAL. The self-proclaimed foodie is always down for a good meal. He enjoys inspiring the youth. Haylock loves the Lord and serves on the Deacon Board at his church.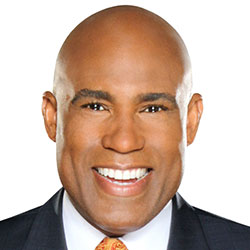 Derrin Horton has been covering professional and college sports for 35 years. He has written, hosted, anchored, reported, and called play-by-play for some of the largest Networks in America. It's a career that has taken him to Super Bowls, World Series, NBA Finals, The Stanley Cup Final and The NCAA Final 4. He's covered legends like Michael Jordan, Kobe Bryant, Jim Brown, Muhammed Ali, Derek Jeter, Wayne Gretzky, and Tiger Woods among others. The Syracuse University Newhouse School Alum is also a professional voice-over actor who spent 10 years as one of the voices of NFL Films. For the last 25 years he has done most of this based here in Southern California, the last dozen years as the Main Sports Anchor at KTLA-TV.
The seven-time Emmy Award winner is also committed to giving back to his community in Los Angeles. From Coaches of Influence, Fellowship of Christian Athletes, Bridge South Bay, American Martyrs Church, Special Olympics Southern California and many other organizations, ministries, schools and churches, as well as his personal mentoring of student interns and aspiring media novices, Horton uses his platform to inspire, encourage, and share about the transformational power available to those who exercise their faith.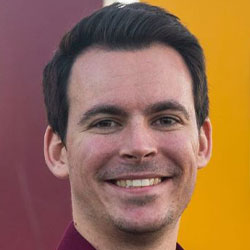 Kevin Buchmiller is currently serving as the Director of Esports at California State University, Dominguez Hills. At CSUDH, esports is a strategy, not an outcome. Kevin has been building a robust and well-rounded CSUDH Esports program that aims for student success. In Spring 2023, CSUDH officially opened their Toro Esports Academy, which is the esports lab space dedicated to gaming on campus.
Prior to CSUDH, Kevin served as an Operations Manager at the Esports Arena for the University of Arizona, where he oversaw all in-person operations and helped build their esports program, student gaming club, and campus community from the ground up. Kevin places a strong emphasis on the aspects of gaming beyond competition, such as career development, networking, and engagement. This is now his 8th year of experience in the esports and gaming industry, and he even played at a semi-professional level. 
Kevin currently has a Bachelor's of Science in Finance with a minor in Mathematics from the University of Arizona, and is currently working towards a Master's of Science in Management of Information Systems from the same school.